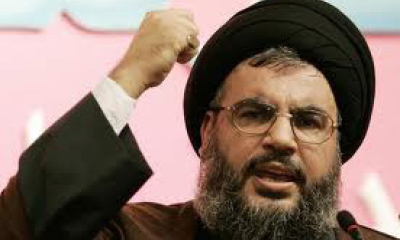 Following the EU's decision to brand Hezbollah as a terrorist group, the head of the group's international relations, Ammar Moussawi, held a closed door meeting with the EU's ambassador, Angelina Eichhorst, in Lebanon to discuss the issue. Hezbollah has not welcomed the decision because it considers its armed section as a resistance group.
On Monday, the EU decided that the military wing of Hezbollah is a terrorist group. Although the decision only focused on the military wing, Hezbollah described it as an "insult" to the movement. Its Chief, Hassan Nasrallah, said they will hold the EU responsible for any Israeli attack on Lebanon. The EU decision gained support when Hezbollah acknowledged that it had fighters in Syria combatting against the rebels.
At the end of the meeting held between Ammar Moussawi and Ambassador Angelina Eichhorst, Hezbollah seemed dissatisfied with the outcome of the discussions. Moussawi was quoted saying that "you cannot condemn with one hand and then extend the other to shake ours." The European Union is willing to continue having ties with the movement but Hezbollah is querying that their decision should be reviewed because "it equates resistance with terrorism."
The movement is a powerful Shiite body which plays a very important role in Lebanon's political arena. It doesn't differentiate between its political and armed wings because it considers itself to be a resistance movement against Israel.
Ammar Moussawi has warned that the implementation of the decision will lead to "consequences" that he stopped short of developing. Hezbollah enjoys a strong support in the Beirut where the European Union embassy is located. Ambasador Eichhorst has maintained that they will continue to collaborate "with all political parties in Lebanon." Hezbollah has warned that it policies and actions will remain unaffected.