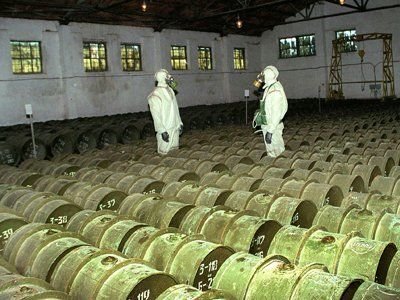 The Syrian government claimed that it has discovered chemical weapons owned by the rebels. It has decided as part of its "openness" and "transparency" policies towards the United Nations to invite some of its officials to investigate the stock that it claims can "destroy a whole country."
Syria's permanent representative to the UN, Bashar Ja'afari stated that the discovery will shed light on "the truth behind the alleged use of chemical weapons in Syria." The discovery was made in the city of Banias. Bashar Ja'afari claimed that polyethylene glycol; mono ethylene glycol, mono ethanol (or ethanolamine), diethanolamine (DEA) and triethanolamine (TEA) were found in barrels at a secret storage along with other "dangerous, hazardous, chemical materials… capable of destroying a whole city, if not a whole country." Syrian authorities state that they were "controlled and monitored by the armed terrorist groups."
Ake Sellstrom, UN's chemical weapons investigator to Syria, and Angela Kane, UN High Representative for Disarmament, are the ones expected to make the visit. Damascus has previously been accused of using chemical weapons on its citizens by European countries and the US, but it categorically denied the accusations. However, Bashar Ja'afari didn't clarify if the UN officials will be investigating allegations against the government despite the fact that Ban Ki-mon, has urged for investigations of allegations on both sides.
The UN is hoping that Syria will allow the team to exercise "comprehensive on-site investigations" in order to acquire "facts in a credible manner," the Secretary-General's spokesman said. The investigators are expected to meet with Ban Ki-mon before the end of the week as he continues to be "seriously concerned" about all chemical allegations according to his spokesman.