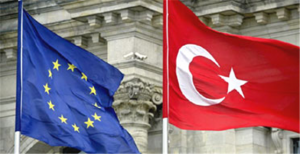 A recent meeting of EU foreign ministers in Luxembourg had the issue of Turkey's accession bid to the 27-nation bloc, high on its agenda.
The long-standing ambitions of Turkey joining the EU bloc seem less unlikely with the recent uprisings at Taksim Square. The clashes between police and protesters in the predominantly Muslim country of 76 million people left four dead and tarnished the government's image. Germany, through its Foreign Minister Guido Westerwelle, made no secrets of its intentions to propose the delaying of talks for four months, to underline its disappointment over Ankara's tough crackdown on protests. Incidentally that period would be after the German elections in October, whether a simple coincidence or a calculated maneuver remains to be seen.
Entry into the exclusive club for Turkey is far from being a done deal because it has so far agreed with the EU on only one of 35 chapters needed to gain entry into the EU, since accession talks began in 2005. Germany supported by Austria and Netherlands opted to maintain a three-year break on the Turkey-EU membership negotiations in Brussels on Wednesday. Tensions between Ankara and Berlin flared when Germany opposed the re-opening membership talks last week, leading to harsh verbal exchanges.
Asked for comment, Sweden's Carl Bildt said he saw "no reason" to delay the accession talks until after the German polls. He reiterated that Turkey's accession was the slowest accession process in the history of the European Union. If accepted, Turkey would become the first and only predominantly Muslim nation to integrate the EU.