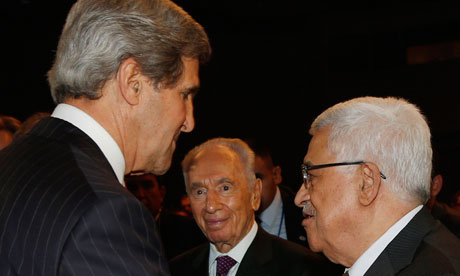 U.S. Secretary of State John Kerry has revealed a $4 billion U.S. plan to boost the Palestinian economy at the end of the World Economic Forum held in Jordan. The news got mixed feelings among the Palestinian leaders. Former British Prime Minister Tony Blair who serves as the Quartet's special envoy to the Middle East has been given the task to attract the amount to the Palestinian territories in private investment.
Palestine didn't waste time to point out that it won't let economic projects divert its political cause. A statement from President Mohammad Mustafa of the Palestine Investment Fund and economic adviser to Palestinian President Mahmud Abbas stated that they will "not offer political concessions in exchange for economic benefits."
Israel has been yearning for an "economic peace" with its neighbors and believes that it can make them sacrifice some of the conditions blocking a political peace agreement them. Mohammed Mustafa reiterated that they "wish it to be part of a political framework that will ensure the creation of a Palestinian state based on the 1967 borders with east Jerusalem (as) its capital and the rights of refugees and a reference to a political solution. These are the priorities." Kerry said the Palestinian economy is expected to grow by "50% over three years." Hamas spokesman Fawzi Barhum made mockery of his announcement on Facebook saying that Kerry "deludes the public and gives more time to the Israeli entity."
Tony Blair will be establishing plans to boost the West Bank's economic activities such as tourism, construction, information technology and agriculture. Potential sectors of the Palestinian economy are already being analyzed in order to identify measures that could be taken to transform the economy according to a statement from the British envoy's office.