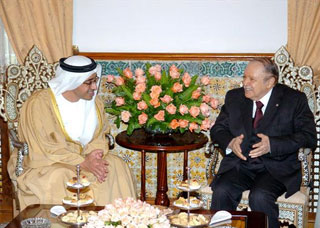 UAE's Foreign Minister, Sheikh Abdullah bin Zayed, has described the relationship between them and Algeria as "significant" and added that it is always growing due to their common values and interests. The minister made these remarks ahead of his visit to the North African country where he is expected to arrive today. He will be accompanied by a delegation of Emirati businessmen on his visit.
Regional issues such as the Middle East peace process and the Syrian crisis will be part of the discussions with Algerian authorities. Foreign Minister Abdullah said they "share a common point of view of urgent international issues, regional security and bilateral co-operation."  He added that the values of "co-operation, stability, a moderate approach and tolerance" are held high by the two governments. Algeria and the UAE relationship spreads over political, economic, investment and cultural cooperation and this "brotherly relations" linking them will continuously be developed and strengthened to benefit both countries and the region as a whole, the minster stated.
The UAE wants to increase its investment in Algeria in the next few years in order to promote prosperity in both countries. Bilateral trade between them in the first eight months was equaled to US$271 million. There are some major companies are already present in Algeria. Amongst them are Dubai World, Mubadala, Al Qudra, Arabtec, Aabar Investments and Emaar. An aluminum smelter at an estimated cost of $5 billion will be jointly established in Algeria this year. Gulf Pharmaceuticals Industries, Julphar, did also lay the foundation to set up a pharmaceutical production unit in Algeria.
Algeria was one of the first Arab countries to recognize UAE and they established diplomatic ties in 1974. Since then, their relations have developed into a "multifaceted" bilateral relation.