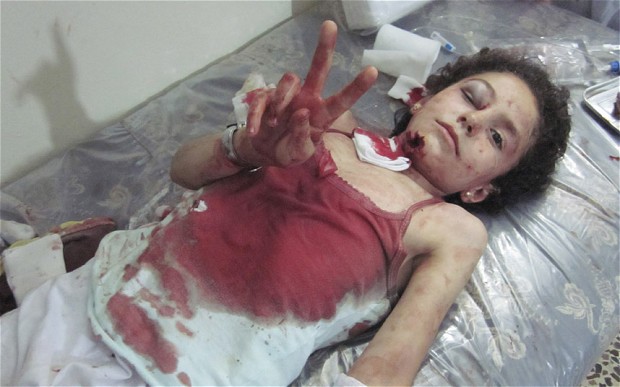 Children are the most cruelly hit victims of the civil war that is entering its third year in Syria, where about two million children are caught in crossfire.
The description of the ordeal Syrian children are going through came in a report released on Wednesday by the Save the Children Organization, based in Great Britain.
These "innocent victims of a bloody conflict" are "under constant risk of malnutrition, disease, trauma and early marriage," says the new report titled "Childhood Under Fire."
Among some other shocking findings, the report indicates that thousands of children are facing malnutrition as they are struggling to find enough to eat, that millions have been forced from their homes and are living in barns, parks and caves where adequate sanitation systems are lacking, and that girls are being married off early in an effort to protect them from perceived threat of sexual violence.
The report also mentions the winter hardships endured by families left without heating in winter as "fuel prices have risen by up to 500 per cent."
The report, citing new research carried out amongst refugee children by Bahcesehir University in Turkey, also reveals the extent to which children have been directly targeted in the war, as one in three children says having been hit, kicked or shot at.
Depicting how some young boys are "being used by armed groups as porters, runners and human shields, bringing them close to the frontline," the report underscores that "the conflict has led to the collapse of childhood for millions of youngsters."
The research by the Bahcesehir University also reveals many children are showing signs of emotional difficulties as they struggle to come to terms with their experiences.
According to the research, nearly one third of children surveyed said that they had been separated from members of their families due to the conflict, and three quarters of those surveyed had experienced the death of a close friend or family member.
"For millions of Syrian children, the innocence of childhood has been replaced by the cruel realities of trying to survive this vicious war," Save the Children International Chief Executive, Jasmine Whitbread, was quoted as saying in a release by the organization.
"Many are now living rough, struggling to find enough to eat, without the right medicine if they become sick or injured. As society has broken down, in the worst cases, hunger, homelessness and terror have replaced school for some of these young people. We cannot allow this to continue unchecked. The lives of too many children are at stake," she said.