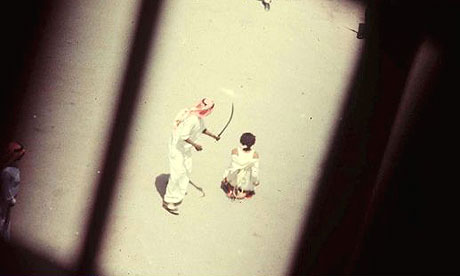 It has been reported by two Saudi local news agencies that a new alternative has been proposed by the Interior Ministry to the regional governors to execute death sentence by firing squad instead of the usual public beheading.
According to the Arab News this might have been a decision that was necessary to face the criticism the country has been receiving from the western. Not only was the method of execution condemned by many but also the alarming high number of execution in the country has shocked many.
For instance in 2012 it has been reported that 82 convicts were killed by being beheaded in public squares by swordsmen.  According to another agency Al Youm, another reason was cited as to why this measure had to be taken. They said that the fact that there are less and less swordsmen available to do this job in the country and some of those who still are employed as executioners arrive often late at public squares where the beheading is done because they have to be brought from towns that are located very far.
According to them, a circular stated that executing criminals by firing squads is not a breach of the Islamic law called sharia. For those who doubt that this kind of sentencing will be put in action the news agency reminded that a similar death has already been executed a few years ago against a female that was convicted.
Nevertheless, the Interior Ministry did not comment about the reports. However Amnesty International announced that up till now Saudi Arabia has executed 17 people which seem less that the years before and the fact that the method of execution is also being modified might indicate a change regarding death sentences.