Iraq: Political turmoil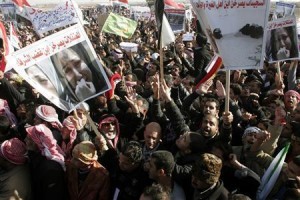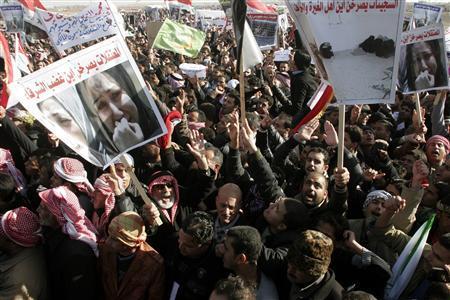 For four days now, Sunni Muslims have been demonstrating against Shi'ite Prime Minister Nuri al-Maliki. On Wednesday, they decided to block Iraq's main trade route that allows the country to export and import products to Syria and Jordan. The protest reached this culminating point because of the lack of response they received after expressing their anger for many days. It all started when the bodyguards of Sunni Finance Minister Rafaie Esawi were detained a week ago. This event occurred just a few hours after President Jalal Talabani who was mediating the conflict amongst Sunni, Shi'ite and Kurdish factions and steadying Iraq's politics, was transported to Germany to treat a stroke. The Sunni Muslims who have been accumulating their critics about the actual head of government seemed to have been waiting for such type of trigger to start a protest that has now plunged the country into more political confusion.  Holding the old flag of Iraq that was modified once Sunni dictator Saddam Hussein was removed, they chanted the same slogans that where heard during the Arab Spring that overthrew the leaders of Tunisia, Egypt, Libya and Yemen. Then they sat in the road blocking the circulation in Anbar. Meanwhile, in the city of Samarra, another predominantly Sunni province, similar protests were being held. For some time now it looked like Prime Minister Maliki has been doing all that is in his power to be the only one standing when the provincial elections will arrive next year. However, according to Esawi the provocation that Maliki made by detaining his guards is proof that "The country should not be run by such a mentality". Even Shi'ite cleric Moqtada al-Sadr did not appreciate this politically motivated act and offered his support to the protests.
Short URL: https://me-confidential.com/?p=6373
Posted by
Jaber Ali
on Dec 27 2012. Filed under
Headlines
,
World News
. You can follow any responses to this entry through the
RSS 2.0
. Both comments and pings are currently closed.