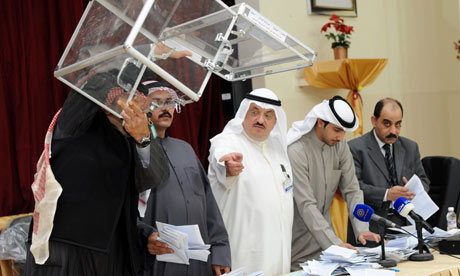 As one of the major US ally Golf country, Kuwait is known for having the most open political system among all the states that are located in the same region. It has also a unique parliament that possesses legislative powers and the right to follow closely minister's decisions.
On Saturday, elections were held to nominate a new parliament but this event was divisive since some changes were made to voting rules by the emir Sheikh Sabah al-Ahmad al-Sabah, who decreased the number of votes per citizen to one from four.  This is due to the fact that many assemblies have failed to function properly because of power struggle between the parliament and hand-picked cabinet. Just this year another election was held in February and the opposition won the majority by securing 34 seats in the National Assembly. However, they put such pressure on the government that they forced two ministers to resign.  But after a June court ruling, parliament was dissolved and new voting rules were put in place.  But the opposition was against these changes and they voiced their disagreement through one of the largest protests in Kuwaiti history where they asked citizens that were registered not to vote and by refusing to stand in the elections. That is why according to figures posted on Sunday on an Information Ministry website only 39% of the eligible voters voted. These low numbers of vote in this country were the past three elections had a 60% turnout is for some a lack of legitimacy of the new parliament.
In addition it includes mainly new comers that are believed to be more pro government.  But investors seem to have faith in this newly elected entity which will cooperate with the government and allow infrastructure projects to be perused.