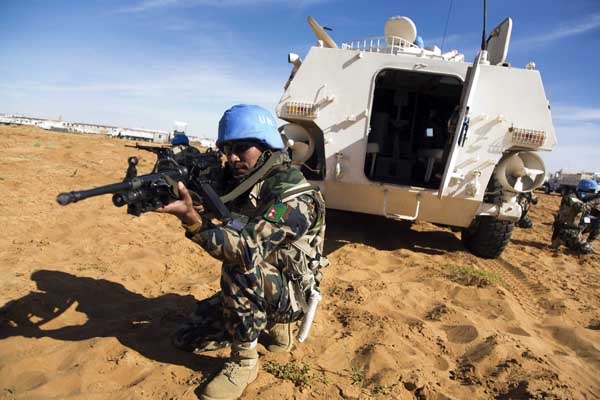 The African Union-UN Mission in Darfur (UNAMID) came under an ambush leaving one dead and injuring three others. However, what seems to surprise UNAMID the most is the type of weapons used by the unidentified assailant during the attack because it is considered to be the first time such weapons were used.
The spokeswoman of UNAMID, Aicha Elbasri, described the attack as a criminal act. She said that the ambush on the convoy "used arsenals of high-caliber weapons that were never used before." The weapons according to her were "mortars, medium machineguns, rocket-propelled grenades, AK-47 rifles and anti-tank guns." There are reports that the attack was aimed at stopping the UNAMID reaching an area where violence had been reported. The convoy was heading for Hashaba area in North Darfur after recent reports of violence in the area.
Elbasri said "UNAMID continues to exploit ways and means to access Hashaba. It is planning for another verification mission to Hashaba in line with its mandate," and urged for a joint investigation with the government.
Rebels fighting to overthrow the government said the convoy had been stopped by "militia," and Darfur's top official, Eltijani Seisi, could not be reached for comments because he was out of the country. The ambush is the second attack on peacekeepers this month.
Much of the Darfur unrest is linked to pro-government Arab groups fighting among themselves as well as against the regime, humanitarian sources said. Insecurity has also been a cause of concern in the area and it was highlighted by a delegation of European Union ambassadors who visited Darfur on the eve of the attack.
Darfur is being marred by conflicts ranging from rebel-government clashes, inter-Arab, inter-community and tribal fighting with high civilian casualties.