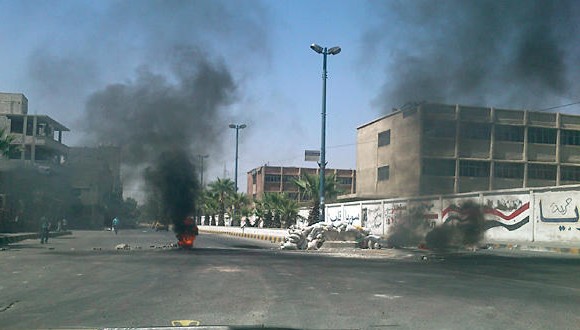 Two heavy explosions have gone off at the exterior of the Air Force Intelligence (AFI) complex in Harasta before fire exchanges took place between the rebels and members of the Air force. Al-Nusra Front, a jihadist militant group, said that it was behind the attack which claimed the lives of dozens of people and many injuries according to an activist group.
Human rights activists said hundreds of opponents of President Bashar have been detained and tortured by Air Force Intelligence across the country since the uprising began in March 2011 and there are believes that some of them are being detained in there.
In its released statement, Al-Nusra accused the Air Force Intelligence of being the "the most notorious security divisions, and a citadel of repression whose extent is known only to God" as some considered it be the elite agency of Syria's intelligence and its famous for its major bombardment operations against Islamist opposition groups as well as covert actions abroad. The government is yet to comment on the attack but a Syrian official confirmed that a suicide bomber had detonated a car bomb near the AFI complex.
The Syrian Observatory for Human Rights (SOHR) reported that several large explosions had shaken homes overnight in Harasta, as well as in the nearby suburbs of Jobar and Qabun. The jihadist group has attested to using a total of 10tons of explosives stocked in vehicles to execute the attack.
UN Secretary General Ban Ki-moon is asking Assad's regime to declare a unilateral ceasefire and urges the opposition to recognize it because according to him, "it is unbearable for the Syrian people to continue like this." He also urged other countries to stop fuelling the Syrian crisis by halting their arm supplies to both sides.