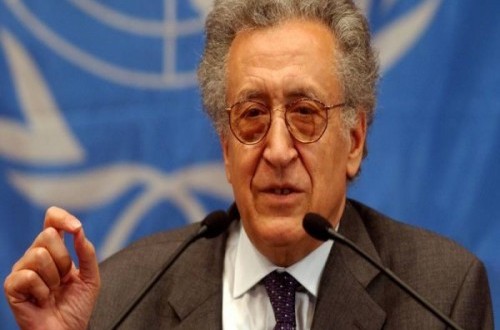 The new envoy of the UN-Arab League to Syria is on his maiden visit to the country as the situation continues to deteriorate. Lakhdar Brahimi was appointed as the special envoy to the war torn country two weeks ago.
His spokesman, Ahmad Fawzi, said he will be having several meetings amongst which are the head of the Syrian government, representatives of the Syrian opposition and the civil society. Brahimi was to start his three-day visit by meeting Foreign Minister, Walid Muallem, on Thursday, a Syrian foreign ministry official said, however the meeting has now been pushed to Friday. According to an official source, he will also be meeting with the members of the Syria-based opposition, which is tolerated by the regime, on the same day.
Upon his arrival at the airport, Brahimi said that his visit to Syria was driven by consultations that he ought' to have with his Syrian brothers. He acknowledged that the situation is not getting better as he warned that "there is a crisis in Syria and I believe it is getting worse."
Brahimi took over from former UN-Arab League envoy Kofi Annan in early September, after the failure of a six-point peace plan to put a stop to the bloodshed in Syria. He has admitted the difficulties which lie ahead and is fully aware of the task that awaits him.
He was accompanied by Mokhtar Lamani who will remain in Damascus to assume his new functions as head of office for the Joint Special Representative for Syria in Damascus, Fawzi said.
Syria's crisis has been going on for a year and a half now.