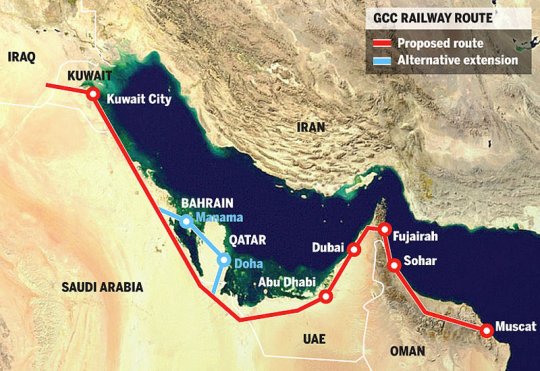 A contract worth almost more than $155 million for the designing and consulting of the construction of Oman's first major railway has nine international companies or groups lining up their bids according to a tender board official. Most of the bidders are from Europe.
The bids were to be handed over in July but the deadline has been pushed to October the 5th in order to allow the companies to submit new bids and to give them enough time. The official went on to reveal the interested bidders as a consortium comprising Denmark's COWI, DBI and AECOM of the United States; SYSTRA of France; U.S.-based Parsons Corp; Mott MacDonald of Britain; a consortium comprising Italy's Italferr and Worsely Parsons of Australia; a China Railway company; France's Egis Rail; the Pointec group; and a consortium of Korea Rail and the Hyundai group.
The railway is expected to be completed in 2018 and it will be measuring 1,000 kilometers in length. Terminals will located at major towns along the way as the railway stretches from the northern border town of Buraimi to the southern city of Salalah. The project is part of plans to link the member countries of the Gulf Cooperation Council.
Each of the members of the Gulf Cooperation Council will also embark on planning and financing their own railway system. They are Saudi Arabia, the United Arab Emirates, Kuwait, Qatar and Bahrain. The GCC is hoping that this project will help them to promote trade within the member states.