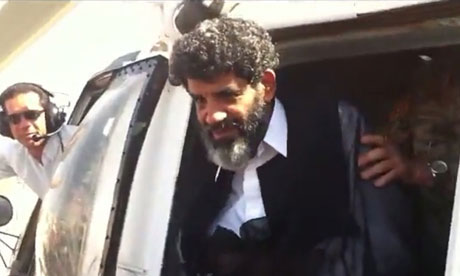 One of Libya's most wanted men, Abdullah Senoussi, has been extradited by Mauritania. He was the former intelligence chief under the former regime. Mr. Senoussi was arrested in March on his arrival in Mauritania in a flight from Casablanca, sparking repeated requests from the Libyan government for his return. Considered to be among Muammar Gaddafi's most trusted men, Senoussi is being accused of committing crimes under his regime.
Mauritania has often refused to hand him over to Libyan authorities because they wanted to try him first for illegally entering their country with false documents. A Mauritanian government official said "he was extradited to Libya on the basis of guarantees given by Libyan authorities." After fleeing Libya when Colonel Gaddafi's reign was close to its end, Senussi has been on the wanted list of the International Criminal Court (ICC) and France. The latter has already sentenced him to life imprisonment for his role in the shooting down of the UTA airliner in 1989.
His arrival has already been affirmed in Tripoli by prosecutor general's spokesman, Taha Ba'ra who said that "the office of the prosecutor general has received Senoussi and he will undergo a number of medical tests. Soon he will also undergo interrogation for the cases he has been charged with."
Senoussi is considered to be in possession of useful information under Gaddafi's regime such as the kidnappings and assassinations of Libyans overseas, financing of terrorists organizations and the Lockerbie bombing. He is also accused of committing several human right abuses and the lost famous one is ordering the massacre of prisoners at the Abu Salim prison.