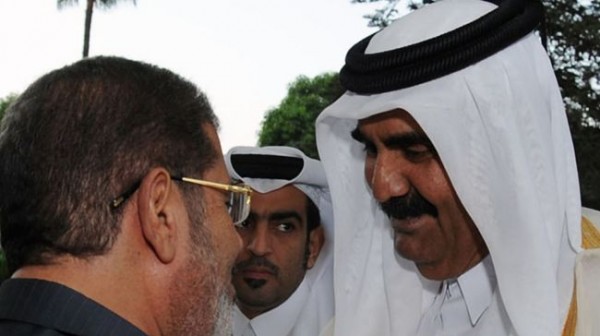 In a move to manifest its solidarity in the revival of Egypt's economy and its struggle to shake-off the effects of its post-revolution, Qatar has announced that it will deposit an amount of $2 billion at Egypt's Central bank. The announcement was also confirmed by Egypt.
The gesture came after a closed door meeting was held by the Emir of Qatar, Sheikh Hamad bin Khalifa Al Thani, and Egypt's new president Mohamed Morsi. The Emir is on a visit to Cairo and it's the first of its kind by a Gulf leader after the election of the Muslim Brotherhood candidate as president.
The Egyptian economy has been struggling since the revolution began and its foreign reserves began a steep decline last year when a popular uprising against the government of Hosni Mubarak sent the economy into a tailspin and led the central bank to start selling dollars to prop up the domestic pound. The country's reserves is also heavily affected because it has fallen to almost half of its amount 19 months ago; as it now stands at only $14.4 billion raising fears that over its importation capabilities. Questions are being asked if it will be able to support the importation of the basic commodities such as wheat and refined fuel, and to honor its international financial commitments. Analysts believe that financial aid is badly needed if the country wants to avoid the devaluation of its currency.
The government has to decide if austerity measures have to be implemented alongside strict government fiancés in order to secure foreign financial aid. Some gulf states have given financial aid to Egypt and IMF is on its way to country for negotiations over a $3.2 billion loan.