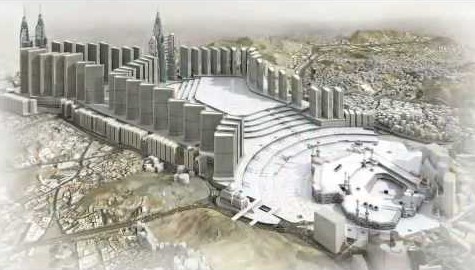 Saudi Arabia is planning mega-housing projects in the Holy city of Mekkah to boost its accommodation capacity as the city hosts every year increasing number of pilgrims.
The Saudi firm "Jabal Omar Development Company, which has been entrusted with the city's expansions, will invest $3.2bn in the construction of 40 residential towers to accommodate up to 160,000 pilgrims and a prayer area for 200,000 worshippers. Ten towers are slated to open in 2013.
This landmark project, to be carried out over a 244,800m2 area, includes 2 five-star hotels with 935 rooms, six three-star hotels with 1,255 rooms, 20-storey residential buildings, 520 restaurants and 4,360 commercial and retail shops.
Air-conditioned plazas for 100,000 worshippers, open courtyards for 120,000 people and a huge parking spot for 10,000 vehicles will also be built.
Saudi Arabia holy cities receive millions of religious tourists each year, who flock to the country for the pilgrimage and umrah. The number of pilgrims is expected to hit 14 million by the end of the decade, a lucrative market luring investors.