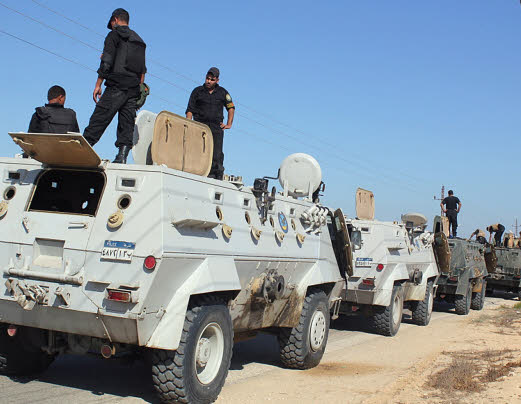 The Egyptian forces have started aerial attacks in the Sinai region following this week's series of attacks by masked gunmen on their personnel at checkpoints in the area.
The Supreme Council of the Armed Forces said they have accomplished their "this task with complete success" in targeting "armed terrorist elements" in the area. The militants are said to be based in Jabal Al Halal, central Sinai, according to sources and they have rocket-propelled grenades, anti-aircraft guns and other weapons. The militants' base is heavily surrounded by landmines therefore making it difficult for Egypt's military to gain access to it.
A state of emergency has already been declared in Southern Sinai while the governor of Northern Sinai has been sacked. The head of the country's intelligence agency has also been retired because of criticism that there was enough information to anticipate the attack on the military.
Although no group has claimed responsibility for the attack, Egypt has accused Israel of playing a role. Israel has denied any involvement and blamed a group call Global Jihad for being behind the attack. The Jewish state also referred the accusations as "nonsense". Egypt has decided to "indefinitely" block all the smuggling tunnels into Palestine on its territory.
Tensions in the Sinai have been on the rise since the ousting of Mubarak and the insufficiency of the military personnel and equipments in the region is seen as a contribution to the development of terrorism in the area. This is the first time Egypt has fired missiles in Sinai since the 1973 war with Israel.