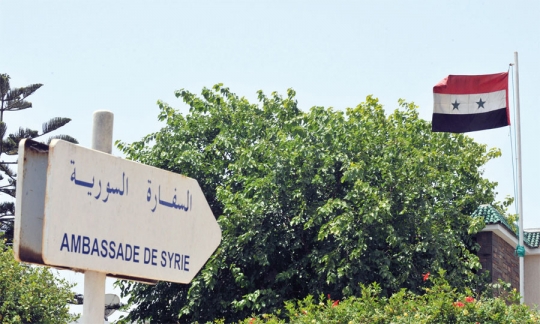 The foreign ministry of the kingdom has released a statement announcing that the Syrian ambassador is no more welcomed and has to leave as soon as possible. Reasons for the declaration of the persona non grata were not advanced but the present situation in Syria was deplored in the released statement.
The government of Morocco through its foreign ministry hopes "an efficient and resolute action to ensure a political transition towards a democratic setup that guarantees Syria's unity, stability and regional safety to achieve the brotherly Syrian people's aspirations for dignity, freedom and development."
There have been rumors going around that the Syrian ambassador to Rabat, Nabih Ismail, was to announce his defection to the rebels fighting against the government forces but it has been refuted by one the embassy staffs.  Fighting has intensified around Damascus in recent days and the statement mentioned that "the Moroccan authorities have been following with great concern the violence that Syria's people are suffering," and thinks that things "cannot remain as it is."
Morocco has now joined the group of countries which has expelled Syria's diplomatic representatives on their territory as it prepares to host the next meeting of the Friends of Syria group.
In a retaliatory move, Syria has also sent the Moroccan ambassador in Damascus packing with the same declaration that Morocco has applied earlier. A tweet posted by Jihad Makdissi, Syria's foreign ministry spokesman, said that "Syria has just considered the accredited Moroccan ambassador to Syria persona non grata." Syria said its decision to expel the Moroccan representative was motivated by Morocco's move to expel its own.