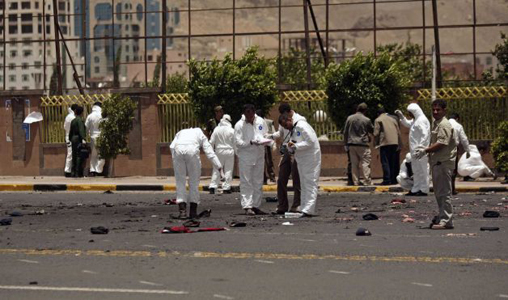 Yemen's security agents are coming under attack in their own backyards as another suicide bombing took place at the gate of the police academy in the capital. No one has claimed responsibility but officials have linked it to Al-Qaeda. Wednesday's bombing is almost 2.5 kilometers away from the May bombings which claimed more lives.
The reported amounts of deaths have been varying from 20 to 10.  The victims are cadets who were leaving the academy after their classes as the bomber exploded in their midst. The suicide bomber later died of his injuries at a hospital.
Militants of Ansar al-Sharia, an Al-Qaeda branch in the Arabian Peninsula, present in the country have promised to carry out attacks across Yemen when a military operation supported by the US army was launched against them. They have lost significant territory to the operation. There are believes that the suicide bombings targeting the security agents is part of their new strategy to discourage civilians from joining them.
One of the deadliest attacks launched by Ansar al-Sharia was in May when a suicide bomber blew up in the middle of an army rehearsal parade taking along with him the lives of more than 100 people.
In another new development, the Interior minister has also announced that they have captured two of the five escapees from the prison in the Hodeida last month. The escaped prisoners are members of Al-Qaeda. They got out of prison by digging a tunnel from one of the prison cells.
Ansar al-Sharia is still a cause of concern for the Yemeni government.