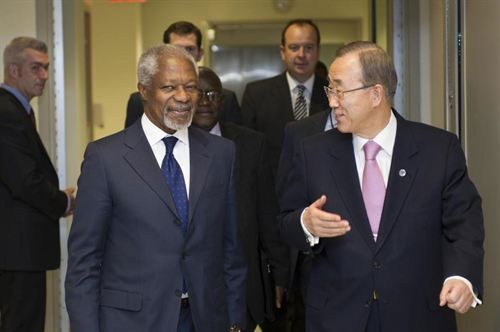 After his meeting with the Iranian Foreign minister, Kofi Annan who doubles as the United Nations and the Arab League's peace envoy to Syria believes that Iran's contribution is needed if an end to the Syrian crisis is to be seen.
At the joint press conference which followed after their closed door meetings in the Iranian capital, Annan said that he was "seeking the support and cooperation of Iran… to resolve this conflict peacefully," after his proposed peace plan yielded no fruit but rather saw the escalation of violence with no respect shown to the ceasefire deal. He called on Iran to put its hand on deck because it has a "positive role" to undertake in the resolution of the crisis as he warned that there is possibility of tensions in Syria getting out of control and spreading within the region.
The Iranian foreign minister, Ali Akbar Salehi, welcomed Annan's remarks. He assured him that he still has Iran's support with regards to his mission to bring back peace to the Syrians and showed appreciation for his "neutrality" in dealing with the matter before going on to say that Iran is "part of the solution."
However, white house spokesman, Jay Carney, didn't hide his feelings about the new developments as he doesn't "think anybody with a straight face could argue that Iran has had a positive impact on developments in Syria." The EU and U.S are against the participation of Iran in resolving the Syria's problems because they believe it provides assistance to the regime in Damascus.