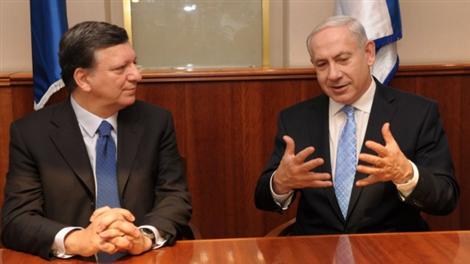 Prime Minister Benjamin Netanyahu welcomed EU commission chief, Jose Manuel Barroso, to Israel after his working visit from Palestine in a three day tour to the two countries. After closed door discussions between the two parties, they signed a cooperation agreement on research and development in the energy and water sector.
Their discussions which focused much on the region covered issues such as the "democratic change and political and economic reforms in the wider neighborhood" that the EU encourages. Barroso also met President Shimon Peres with whom he shared thoughts about the high diplomatic profile of Iran's nuclear program that makes Israel feel threatened and the Palestino-Israeli conflict that has its peace talks at a stalemate.
Israel acknowledged EU's position of Iran. Peres described Iran as "the headquarters of world terrorism" adding that it must be barred from acquiring nuclear weapons. Israel maintained its stance on the return to the negotiation tables without preconditions. Barroso on his part repeated that EU is "in favor of a two-state solution" after highlighting earlier that the Arab spring shouldn't make them forget about the peace talks.
Palestine has just declined a 123 prisoner release offer by Netanyahu for the resumption of talks. Palestine wants them to be released all at once. It also wants Israel to honor the release of prisoners promised by the ex-Prime Minister Ehud Olmert. Israel said President Abbas has "missed the chance" for talks to begin.
The Levy committee, commissioned by the government, has made its report urging for the legalization of unsanctioned West Bank settlement outposts with fears that it might be used as political tool to promote the construction of houses. Palestine has already contested the report as a violation to International law.