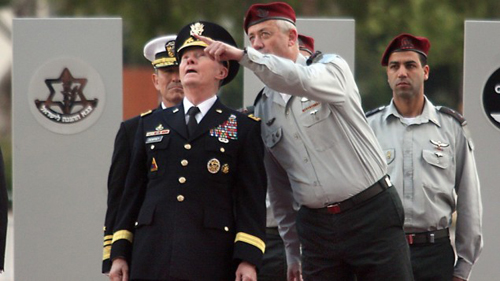 Israel and the United States will hold next October joint military maneuvers, the largest-ever war games to be conducted by the countries, amidst Iran's growing threat to shut down the Strait of Hormuz and ambitions to acquire nuclear weapons.
Dubbed "Austere Challenge-12", this military exercise was initially scheduled for last spring but postponed due to financial constraints and tumultuous geopolitical situation in the region. The drill will enable Israel and the U.S. test some ballistic missiles and air defense systems against incoming missiles and rockets from hostile countries such as Iran. Thousands of American and Israeli soldiers from different units are expected to take part in the simulations destined to enhance interoperability between the two allies.
Israel has deployed lately the "Arrow" system and the "Iron Dome" air defense shield , jointly developed and funded by the U.S. to intercept Iranian missiles in the Israeli airspace.
Although the West has tightened sanctions against the Iranian regime over its nuclear program, Tehran has remained defiant and carried out lately military maneuvers testing its own missile system and warheads. But after feeling the pain of the international embargo, it issued a new threat to shut the shipping lane linking the Persian Gulf with the Gulf of Oman, triggering anxiety in the global oil market, driving up prices which could undermine world economic growth.
To counter such as risk, the U.S. started moving some warships to region. It seems that tension is building up with the two sides flexing their military muscle, raising regional fears over a possible escalation and probably a confrontation in the near future?