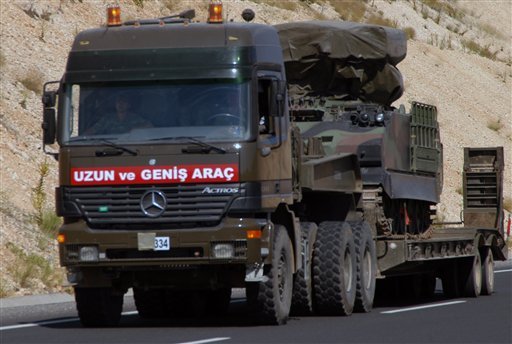 Turkey is building up its military presence and air defense systems along its southern border, following Syria's downing of a Turkish fighter jet, an incident which has further strained already-frayed relations between the two neighboring countries.
Footage aired by several TV stations showed Turkish military trucks transporting solders, tanks and mobile missile launchers heading for the Syrian border. Ankara insists that the shooting down of one its warplanes in international waters by Damascus "was not an accident" as claimed by Syria but and "a hostile action".
Thus, Turkey has changed its military rules of engagement, saying that will consider any military approach toward its borders by Syria as a potential threat and will act accordingly.
NATO, which held an emergency meeting at the request of Turkey to look into issue, has slammed Syria over downed plane and described the shooting as unacceptable. But Turkey, a NATO member, was expecting a stronger reaction from the North Atlantic Alliance rather than just tough words.
On the ground, violence continues to escalate claiming more innocent lives, while Western-Arab diplomatic efforts seeking a political way out to the Syrian conflict have not so far been able to stop the bloodshed.
According to the UN, at least 10,000 people have been killed since pro-democracy protests broke out in Syria began in March 2011. Thousands of Syrian refugees have fled the bombings and deadly clashes to neighboring countries: Turkey, Jordan and Lebanon.