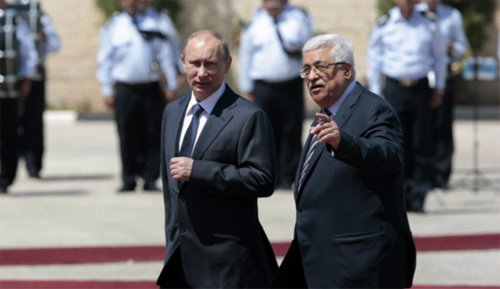 Russia's President Vladimir Putin on Tuesday praised the Palestinian leadership and president Mahmoud Abbas for their responsible approach to the peace process seeking a two-state solution.
"The Palestinian leadership and the president personally, have been behaving responsibly to achieve peace based on the two-state solution," said Putin following a meeting he held in Bethlehem, the West Bank, with the Palestinian Authority President Mahmoud Abbas.
He also said Russia has no problem recognizing a Palestinian state, recalling that the Soviet Union had recognized a Palestinian state in 1988. Russia's view on the matter had not changed, he said.
Alluding to continued Israeli settlement expansion on lands captured in the 1967 Mideast war, Putting said "all unilateral actions are not constructive", a statement viewed by observers as a veiled criticism of Israel.
Israel's refusal to stop building Jewish settlements in the West Bank and East Jerusalem, occupied territories that the Palestinians want for a state, along with the Gaza Strip, led the negotiations process to a halt since 2008.
While in Bethlehem, Putin inaugurated a Russian cultural and language center and toured the church built over the traditional birth grotto of Jesus.
On Monday, he was in Israel where he met Prime Minister Binyamin Netanyahu and President Shimon Peres.
Russia, which is seen as the most sympathetic to the Palestinians, is member of the Quartet of Middle East mediators that also includes the United States, the European Union and the United Nations.