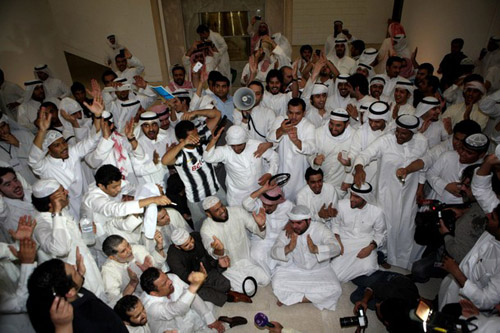 Political tensions is mounting in Kuwait reaching unprecedented levels threatening the stability of the oil-rich Gulf state, one of the major allies of the US and the West in the region. Skirmishes between cabinet members (controlled by the Al-Sabah ruling family) and the Islamist opposition lawmakers have intensified lately, pushing the emir Sheikh Sabah al-Ahmad al-Sabah to halt parliament for one month.
The move, taken in line with article 106 of the constitution, comes following the resignation of two ministers who were grilled by the opposition MPs over allegations of corruption and misuse of public funds.
The forced departure of the ministers of Finance and Social affairs raised fears fueling speculations that the political rows and clashes could lead to another cabinet reshuffle and turmoil.
According to some political analysts, the Kuwait ruler decision to suspend the Parliament is seen as a "procrastinating tactic and truce" destined to absorb growing tension as the ultraconservative MPs were considering to subpoena the ministers of the interior and Defense over some controversial issues such as  citizenship law and the situation of stateless residents. These two powerful ministers, who are close to the ruling family, may be for the time being spared tough and embarrassing questioning by MPs but for how long?