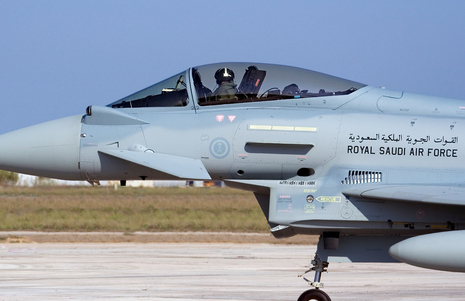 The Kingdom has signed another contract with the British defense giant BAE to acquire jets. The deal includes a supply of jets to reinforce the Royal Saudi Air force capacities with modern gadgets. The concluded jet deal includes 22 BAE systems Hawk advanced jet trainers and 55 Pilatus PC-21 turboprops. The deal is worth about £1.6 billion. It also comprises the training of Saudi pilots to fly the Euro-fighter Typhoon efficiently. Materials such as simulators, ground equipments, training materials and spare parts are also part of the deal.
The jets are to be handed over within a couple of years. The PC-21 basic trainers will arrive in Riyadh in 2014 while the Hawks will only be available in 2016 according to BAE. The deal is said to give Saudi Arabia access to the "very latest in advanced simulation for radar weapons and defensive aids in training" according to Guy Griffith of BAE.
In the past decade, the kingdom has embarked on a campaign of modernizing its Royal Air Force by signing several deals worth billions of US dollars. It has bought 72 Euro-fighter Typhoon aircrafts, of which 24 has been delivered, from BAE in 2007 for billions of pounds. Recently in December 2011, it ordered 84 F-15 fighter jets from the United States for more than $29 billion.
The Kingdom of Saudi Arabia has been criticized for its Human Rights record by many Western Human Rights groups after the intervention of its forces in Bahrain to quell the anti-government demonstrations when they were gaining momentum. They were also against this jet deal.