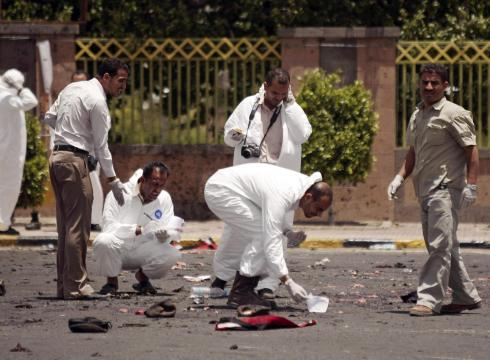 A suicide bomber, dressed in a military uniform, has killed at least 101 Yemeni soldiers on Monday when he blew himself during a military parade rehearsal.
No one has claimed responsibility for this deadliest attack since President Abdrabbuh Mansour Hadi took power last February. The terrorist blast, which rocked the capital Sanaa, occurred near the presidential palace while the soldiers were practicing to mark the unification of Yemen's north and south.
The death toll continues to mount as several soldiers seriously injured are still under intensive care.
According to press reports, Yemeni defense minister, Mohammed Nasser Ahmed, and chief of staff Ahmed al-Ashuoual were present during the attack but escaped unharmed.
Al Qaeda is believed to be behind the attack which comes few days after Yemeni army killed over 30 Islamist militants in an offensive launched against their stronghold in the southern province of Abyan.