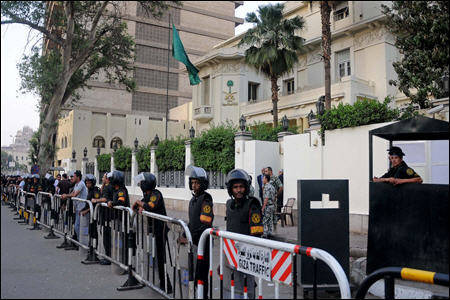 Since the detention of an Egyptian human rights lawyer after his arrival at the airport of Jeddah in Saudi Arabia has ignited diplomatic crisis between the two countries. He is accused of being in possession of banned drug tablets in the kingdom. Egyptian activists believe he is a targeted victim because of his outspokenness of the negative ways Saudi authorities treat his compatriots, whom are more than two million in the kingdom.
A diplomatic row has emerged and Saudi Arabia has recalled its ambassador to Riyadh and closed down its embassy and all its consulates in Egypt after several protests there by the Egyptians. Egyptians believe that their ambassador in Riyadh is not doing enough to protect its citizens. The situation has been fuelled with claims that Ahmed al-Gizawy was on a religious visit and should have be free from such harassments, a claim that Saudi Arabia denies as they said he was in his normal clothes.
The ties between the two countries are strategic according to Egypt's foreign minister, Mohamed Kamel Amr. They are great allies in the region. Despite the row, Egypt is still receiving its financial aid package of $2,7 billion from Riyadh and promises have been made to reopen the embassy and the consulates after consultations with the embassy. They are also sharing good economic bonds.
King Abdullah bin Abdul Aziz of Saudi Arabia emphasizes on the importance of the relations the two countries share. He also highlighted the necessity to develop them in a way that will be productive to enhance the interest, security, stability and the development of the region.