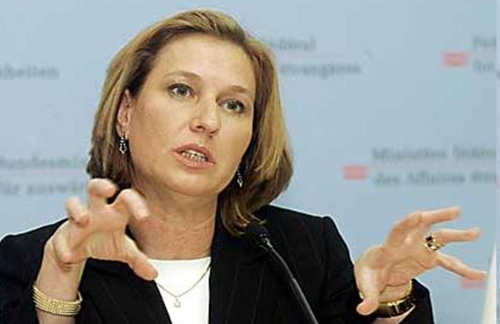 Tzipi Livini, an opposition leader and a former Prime Minister in Israel has resigned from the parliament, the Knesset; although she made it clear that she will still be active in the public domain as Israel is too dear to her.
Shortly before submitting her resignation letter to the speaker of the Knesset, Rueven Rivlin, she told journalist that "there is an immediate and urgent need to reach a permanent settlement with the Arab World and the Palestinians". A couple of weeks ago, she also lost her post as the party leader of the Kadima party to Shaul Mofaz, who was once a defense minister. The Kadima party is a centrist one.
She also made her worries about Israel's future known. She blamed the current government for their lack of commitment towards a peace deal over the Israel-Palestine issue. Ms Livini described Israel as being on a volcano and time is running out of its favor internationally. She further went on to say that "for many years our leadership has been burying its head in the sand and dealing with political tricks" whilst the threats towards Israel continue rising. She elaborated by saying the services of the state's intelligence agency, the Shin Bet, is not needed to evaluate such a danger because it is obvious, referring to Iran.
With elections to come later in the year, Ms Livini's move has reduced the support of the Kadima party according to opinion polls with the Likud and Labor party taking the lead. Rumors are that she will join a new party headed by Yair Lapid.
She said she has no regrets with regards to her losing the party leadership and her unwillingness" to sell the state to the ultra-orthodox".