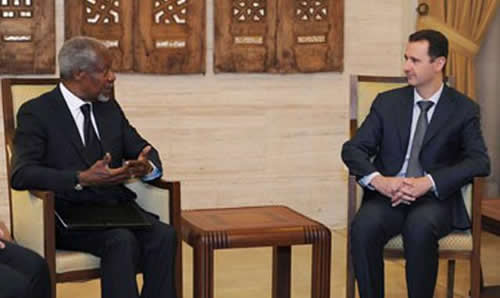 The Syrian crises has gone on for more than  a year now and the ceasefire that was put in place by the Kofi Annan peace plan hasn't been enough to bring an end to violence.
United Nations Security Council has recently decided to increase the number of monitors on the ground to 300 for three months. This will enable the coverage and monitoring of the troubled areas. The move has been applauded by the International Community as a big step towards peace and stability.
However, the activists are not pleased with the monitoring team working with the state instead of the affected people that they claim are still being shot and shelled. They consider their mission to already be a failure.
New sanctions have also been directed towards Damascus. The EU has banned the sale of luxury goods and products to Syria which can be used by both the civilians and the military, in other words products that have "dual-use". The ban is also aimed at limiting the flamboyant lifestyles of Assad and his British wife.  The recent USA sanctions are aimed at those helping Syria to oppress its citizens by their technological know-how will be addressed with visa restrictions and the freezing of their assets. Iran is also concerned by these new sanctions of the US.
Lack of access by the international media has made it difficult for the information coming out of Syria to be justified since the beginning of the protests in March 2011. The death toll is estimated by the activists to be more than 11,000, the UN puts it at about 9,000 and the government declares 3,838 – of which 2,493 are civilians and the remaining victims are security forces personnel.