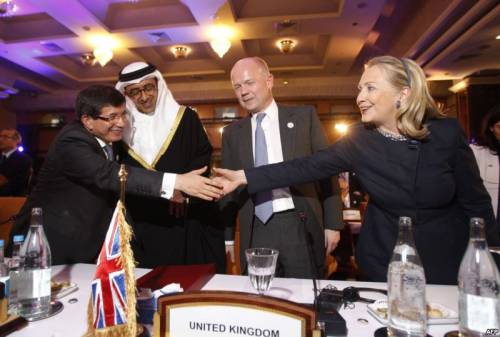 The Friends of Syria, an international alliance gathering over 80 countries, have recognized the Syrian National Council (SNC) as "the legitimate representative" of the Syrian people and as "the main opposition interlocutor" with the international community.
The Friends of Syria Group, similar to the contact group on Libya, was set up by Arab & Western countries after Russia and China vetoed a UN draft resolution condemning the Syrian regime crackdown on protesters and blocking any action against the government of President Bachar Al Assad to halt the killings of civilians.
At the end of their meeting held Sunday in Turkey, delegates of U.S., Western and Arab countries have pledged $100 million to pay salaries to opposition fighters and solders who defect from the Syrian army.
They have also agreed to send high-tech communications equipment to help rebels better organize, avoid Syrian military and stay in contact with the outside world.
The financial assistance pledged to the Syrian fighters will be granted by some Arab countries including Saudi Arabia, Qatar and the United Arab Emirates, while the humanitarian and logistics aid will be supplied by the U.S. and its allies.
However, some Arab Gulf countries namely Saudi Arabia and Qatar have been openly calling for arming the Syrian opposition fighters, while other countries including the U.S. and Turkey oppose the move, saying it could lead to more bloodshed, fueling a sectarian civil war.
In their final communiqué, the Friends of Syria "underscored a commitment to Syria's sovereignty, independence, political unity and territorial integrity".
They also asked UN peace envoy Kofi Annan to set a timeline for next steps if Syrian government fails to halt civilian massacre and honor its commitments to the UN-Arab peace plan which calls for to a cease fire, pullout of tanks from towns and cities, and allowing humanitarian access.