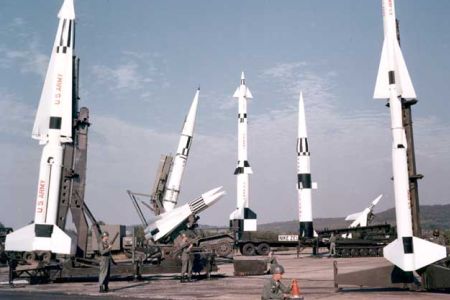 The six-member countries of the Gulf Cooperation Council (GCC) will be benefit the U.S. advanced ballistic missile defense system against any threat from neighboring Iran.
Addressing the inaugural session of the Strategic Cooperation Forum between the U.S. & GCC –Saudi Arabia, Bahrain, Kuwait, Oman, Qatar & UAE–, Secretary of State, Hillary Clinton stressed "the rock-solid commitment of the United States to the people and nations of the Gulf".
According to Mrs. Clinton, Washington "can do more to defend the Gulf allies through cooperation on ballistic missile defense", some of which have already been deployed in the oil-rich region.
The US-GCC forum held Sunday in Riyadh "offers opportunities to deepen and further our multilateral cooperation on shared challenges, including terrorism, nuclear proliferation, and piracy, as well as broader economic and strategic ties", said Mrs. Clinton.
Among other things, "it should help the American and GCC militaries pursue in concert a set of practical steps, such as improving interoperability, cooperating on maritime security, furthering ballistic missile defense for the region, and coordinating responses to crises", she added.
As to the challenges facing the region, Mrs. Clinton said "Iran continues to threaten its neighbors and undermine regional security through its nuclear program, support for the Assad regime's murderous campaign in Syria, threats against the freedom of navigation in the region, and interference in Yemen".