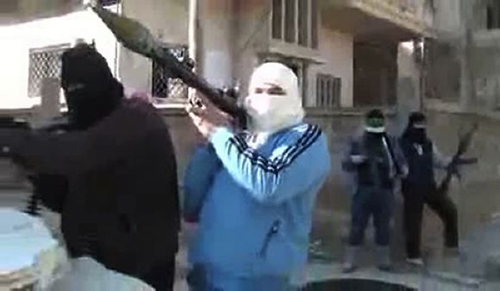 As the Syrian authorities continue to defy the international community call to end bloodshed and killing of pro-democracy protesters, a hot debate is ragging in Washington over whether should the U.S. administration arm Syrian opposition or back off ?.
Over 50 prominent U.S. conservatives have signed an open letter, urging the Obama administration to "take immediate action" against the Syrian regime.
According to the signatories, the U.S. & its allies should help the Syrian opposition forces by providing them medical aid, communications and ultimately, weapons.
They have also said that the U.S. should intervene because the Iranians and the Russians are providing Syrian president Bashar Assad with weapons, affirming that the civilians being massacred deserve the right to defend themselves.
But, Gen. Martin Dempsey, chairman of the Joint Chiefs of Staff, has said "it is premature to take a decision to arm the opposition movement in Syria, because I challenge anyone to clearly identify for me the opposition movement in Syria at this point".
For Gen. Dempsey the U.S. should wait "until it got a lot clearer picture", warning that military intervention in Syria would be more difficult than in Libya.
Death toll in Syria continues to climb, exceeding 5,000 according to a UN estimate, while opposition groups say more than 7,000 people have been killed in the 11-months of crackdown which intensifies as the Syrian regime is protected by Moscow & Beijing.