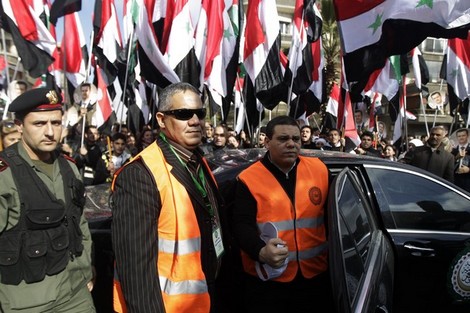 The Arab League has suspended its observer mission in Syria amid surging of bloody violence and clashes between pro-democracy protesters and government security forces.
The mission was set up to verify Damascus compliance with the league's peace plan to end bloodshed in the country. Several Arab countries have pulled out their monitors from Syria because of the escalation of violence as the Syrian troops moved to retake control of some areas from the rebels using heavy weaponry, claiming more lives.
According to UN, more than 5,000 people have been killed since protests against the government of President Assad erupted last March.
Syrian authorities have slammed the league decision to freeze its controversial observer mission, describing the move as a tactic paving the way for foreign intervention.
The Arab league chief Nabil Al Arabi is expected to address this week the UN Security Council to discuss a draft resolution on Syria. The resolution, drafted by the league and baked by Britain, France and Germany, calls on President Assad to cede power to a deputy, who would form a national unity government with the opposition within two months.
This draft resolution, which threatened the Syrian government of taking other measures if it does not comply, is opposed by Russia.