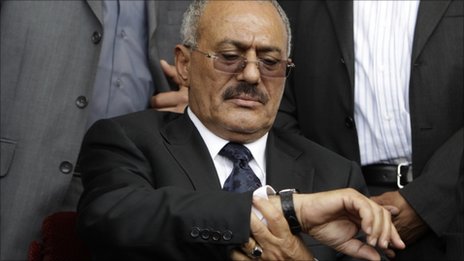 A controversial draft law granting President Ali Abdullah Saleh immunity from prosecution has been submitted to the Parliament for approval.
The bill, endorsed by the cabinet, pardons Saleh and his aides for any crimes committed during his 33-year rule, while protesters want them to be tried and held accountable for the killings of hundreds of pro-democracy militants.
The draft law has outraged many Yemenis, describing the move as a smack in the face for justice defying calls for an end to impunity.
Under a power-transfer agreement brokered by Saudi Arabia, president Saleh handed over some presidential powers to Vice-President Abd Rabbu Mansour, while he kept the title of President until the elections slated for next February.
According to UN High Commissioner for Human Rights Navi Pillay, the bill – if passed – would violate Yemen's international human rights obligations.