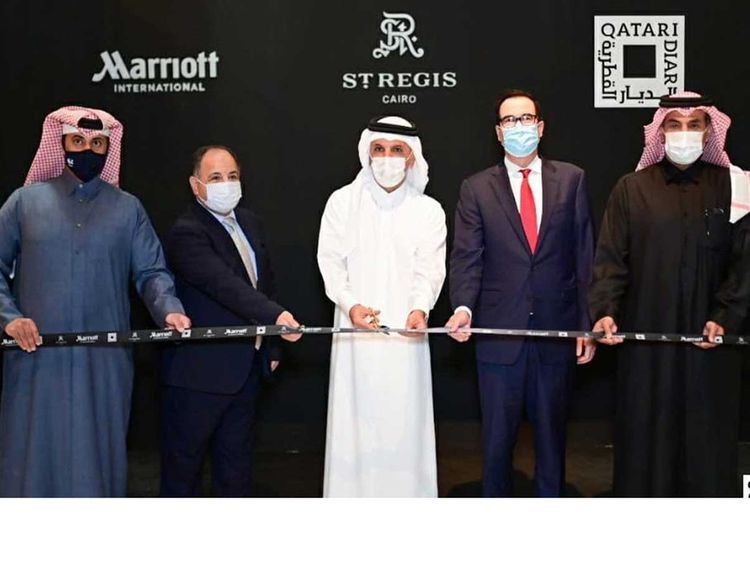 Qatari Finance Minister Ali Al Emadi Tuesday opened a Qatari-financed luxury hotel in the Cairo –first ever visit by a top Qatari official following agreement between Egypt and Qatar to end long standing diplomatic rift.
Emadi attended the ceremony alongside his Egyptian counterpart Mohammed Maeti and US Secretary of the Treasury Steven Mnuchin. St Regis Cairo Hotel, located on the bank of the Nile is owned by Qatari real estate investment company, Diar.
The $1.3-billion structure provides around 440 new jobs, expected to reach 1,000, some 95 per cent of which will be done by Egyptians, Gulf Business reports. Emadi arrived in the Egyptian capital Tuesday on board a private flight from Doha and is slated to leave early today Wednesday.
His brief visit came hours after Egypt agreed to open its airspace to Qatar as part of agreement between the two countries which had fallen out since June 2017.
Egypt, Saudi Arabia, Bahrain and UAE had accused Qatar of supporting terrorism and severed ties with the tiny Gulf country. Qatar had however rejected the charges. The Saudi-led group and Qatar however Tuesday in Riyadh during the 41st summit of the Gulf Cooperation Council, GCC, signed a declaration to the row and turn a new page.
Hours ahead of the summit Saudi Arabia also reached an agreement with Qatar to re-open its land, sea borders and airspace. Kuwait and the U.S have helped broker the various deals.