Nuclear Deal: Riyadh vows to seek nuke arms if Iran does so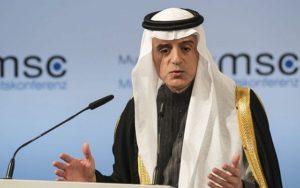 Saudi Arabia Wednesday pledged to equally develop nuclear capability if its rival Iran goes ahead to get nuclear arsenal following US pullout of the 2015 nuclear agreement.
The kingdom's top diplomat Adel al-Jubeir speaking to CNN indicated that Riyadh will not hesitate to develop its own nuclear arsenal should regional rival Iran resume its nuclear program.
"If Iran acquires nuclear capability we will do everything we can to do the same," he said.
The announcement came one day after US President Donald Trump retrieved US from the nuclear pact signed in 2015 between the five permanent members of the UN Security Council plus Germany. Trump announced to re-impose crippling economic sanctions on Tehran.
Saudi Arabia, Bahrain and the United Arab Emirates (UAE) hailed the US decision.
Al-Jubeir's announcement came the same day the Saudi-led coalition in Yemen claimed it intercepted two ballistic missiles over Riyadh launched from Yemen. The missiles were launched by Iran-backed Houthi rebels who reportedly claimed responsibility for the action.
Al-Jubeir accused Iran for the attack and pledged a response.
"These missiles are Iran-manufactured and delivered to the Houthis. Such behavior is unacceptable. It violates UN Resolutions with regards to ballistic missiles. And the Iranians must be held accountable for this," Al-Jubeir told CNN.
"We will find the right way and at the right time to respond to this … We are trying to avoid at all costs direct military action with Iran, but Iran's behavior such as this cannot continue. This amounts to a declaration of war."
Short URL: https://me-confidential.com/?p=19397
Posted by
KanelkaTagba
on May 10 2018. Filed under
Gulf News
,
Headlines
. You can follow any responses to this entry through the
RSS 2.0
. Both comments and pings are currently closed.