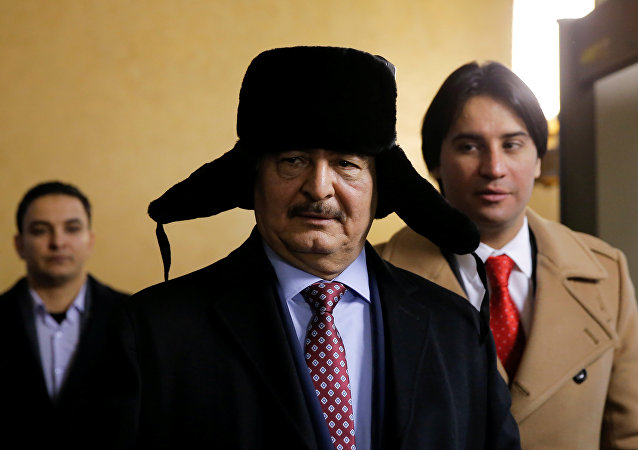 Head of the Libyan National Army Khalifa Haftar has charged Qatar for alleged backing of terror groups in Libya as the small gulf country undergoes regional pressure following last week diplomatic tension.
Haftar, who is linked to the United Arab Emirates (UAE) and Egypt, told local media that Qatar as well as other regional countries are funding terror groups in Libya.
The Libyan army commander who leads an army opposed to the UN-backed Government of National Accord (GNA) pointed out that some foreign communities and groups were receiving funding from Qatar and some other regional countries, which he did not disclose.
He linked those groups and communities to al Qaeda and the Islamic State group.
Haftar's comments came as Doha faces regional isolation following last week tension between the small country and other Gulf countries after remarks attributed to Emir Sheikh Tamim bin Hamad Al-Thani irked other regional powers mainly Saudi Arabia and the United Arab Emirates.
Comments attributed to Al-Thani criticizing US President Donald Trump, calling for renewal of ties with Iran, and labelling Hamas a resistance movement were published on the Qatari official News Agency and its related platforms.
Riyadh and Abu Dhabi shut down Qatari media websites including Doha-based al Jazeera. Egypt also moved in the same direction suspending all Qatari news websites.
Doha flatly denied any wrongdoing pointing out that its news agency was hacked
Qatar has been accused by other Gulf and Arab countries of supporting terrorism and backing the Muslim Brotherhood.
Doha argued that rift following the media scandal was orchestrated by Riyadh and Abu Dhabi to smear Qatar's image.
Haftar has been receiving military and logistic support from Cairo and Abu Dhabi in his so-called fight against jihadists.