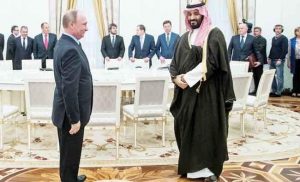 Saudi Deputy Crown Prince Tuesday expressed Saudi Arabia's intention to keep good ties with Russia after Moscow fumed over the red carpet welcome reserved to the United States during Trump's visit to Riyadh.
Deputy Crown Prince Mohammed bin Salman met with Russian President Vladimir Putin in Moscow to discuss regional issues as well as Saudi Arabia's goodwill for good ties despite a lean towards the United States.
"Relations between Saudi Arabia and Russia are seeing one of their best stages at the moment," the deputy crown prince said after the meeting.
"The two countries have a lot of points of mutual understanding. As for the points on which we have differences, a clear mechanism exists to overcome them and we are progressing at a quick pace in this respect," he added.
The meeting was the second between the two men over the past year.
Saudi Arabia is still attached to bonds with Russia on oil and energy resources. Both countries are also discussing Syria where they support opposing sides. Riyadh wants embattled Assad removed while Moscow sees him as a key player in the resolution of the conflict.
"The main thing is that we manage to build a strong foundation as concerns the oil market and prices of energy resources. This offers opportunities for building a strategic future further," the Deputy Crown Prince said.
Russia enjoys good ties with Saudi's arch regional enemy Iran, which the US accuses of sowing unrest in the region and of funding terrorism.
Nickolay Soukhov, a senior researcher at the Institute of Oriental Studies at Russia's Academy of Sciences told Saudi media Arab News that "the visit will have a positive impact on bilateral ties".
"The fact that the Saudi deputy crown prince arrived in Moscow one week after the historic summit in Riyadh demonstrates that the Kingdom is eager to keep balance in its foreign policy and to diversify its ties," Soukhov said.