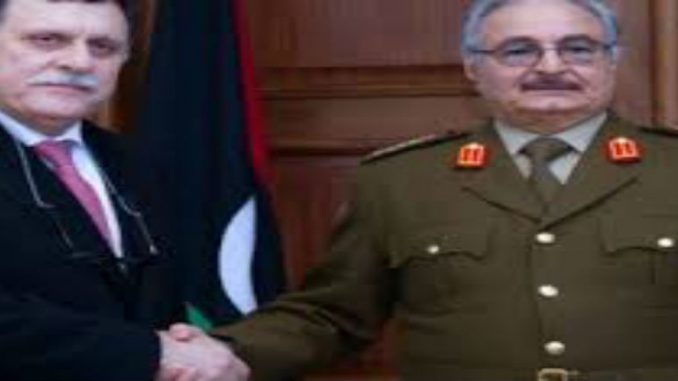 Libyan rivals Faiez Serraj and Khalifa Haftar have agreed to work together in combating terrorism across the country and to end confrontation in the south of the country.
The agreement was struck at their meeting in Abu Dhabi Tuesday.
Two statements issued by both sides noted that the North African country needs to fight terrorism. Statement from the Presidency Council (PC) led by Serraj emphasized that the fight could only be attainable with a unified Libyan army.
Serraj supported by the West and other major global political bodies met with east-based army commander Haftar in the Emirati capital on Tuesday.
The meeting, the second since Serraj's nomination at the head of the PC in December 2015, has been hailed as a milestone in the implementation of the Libyan Political Accord (LPA).
The LPA has been stumbling on the future role of Haftar who refused to work under Serraj.
Haftar's forces known as the Libyan National Army (LNA) aligned with the country's internationally recognized parliament, House of Representatives (HoR), has been fighting for nearly two years terrorists in the east of the country and around Benghazi.
Both sides have also noted their eagerness to combat corruption and improve economic conditions of all Libyans. The forces of Serraj and Haftar have been haggling over the control of the country's oil facilities. Oil remains Libya's prime economic source.
Unconfirmed reports also allude that both rivals agreed on the organization of presidential and legislative elections by March 2018, at the latest.