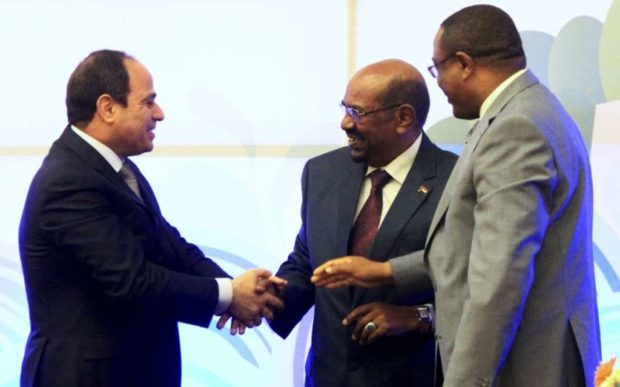 At the end of the Egyptian-Sudanese political consultation committee meetings on Thursday in Khartoum, the foreign ministers of the two countries held a joint press conference renewing their efforts to foster the ties between their governments after the recent setbacks in their relations. Sudanese Foreign Minister Ibrahim Ghandour said the government "will not allow any Egyptian opposition group to carry out negative activities from Sudanese territory." Both sides have traded accusations of supporting opposition groups from each other's country. He added that it is important "to prevent opposition groups from our countries, especially armed groups, from carrying out negative activities against both countries."
The visiting Egyptian foreign minister Sameh Shoukry noted that "the rise in regional and international terrorist activities has increased the importance of cooperation with our Sudanese brothers to face these challenges." He gave assurances that Cairo would work "hand in hand" with Khartoum to boost the bilateral relations. Egypt thinks that the media is contributing to hampering ties between the two states with its "irresponsible handling" of reports concerning the two countries.
Ties between the two countries have been marked with opposing views over the Halayeb Triangle and Khartoum's support to the Ethiopia's Great Ethiopian Renaissance Dam on the Blue Nile. Cairo considers the dam as a threat to its livelihood because it will affect its Rive Nile supply which is its main source for water.
Sudan had threatened to take the matter of the Halayeb Triangle to the UN as a reactionary measure for Egypt's alleged support to the Sudanese opposition. Halayeb is a sparsely populated 25,000-sq.-km border region occupied by Egypt in 1995 as relations between the two countries reached its lowest level. It seems as if the political consultations were fruitful as both sides agreed to submit the matter of their respective presidents. "Sometimes, some issues require communication to resolve any problem or misunderstanding, because this relation should always be based on mutual respect and appreciation", Shoukry said.
Earlier this month, Sudan issued an order requiring male Egyptian citizens between 18 and 49 years of age to obtain an entry visa from Sudan's embassies and consulates when visiting the country. Since 2004, Egyptians enjoyed visa-free travel to Sudan.