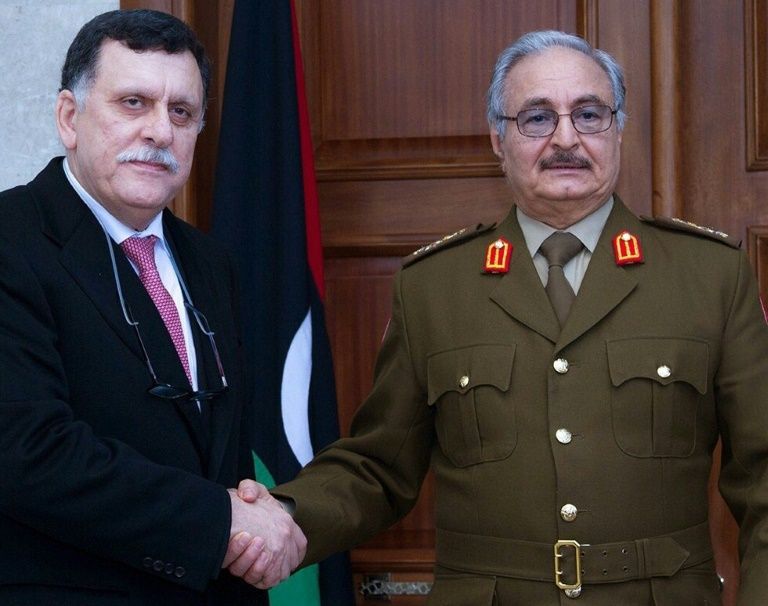 Prime Minister-designate of the UN-Government of National Accord (GNA) and head of the Presidential Council, Fayez al-Sarraj called for an "urgent intervention" in an open letter addressed to the International Community including the UN, European Union and the Arab League. The call for foreign intervention has been termed as an "unconstitutional decision" by the Tobruk-based House of Representatives (HoR). Clashes between the Libyan National Army (LNA) loyal to the HoR and forces obedient to the GNA have been ongoing for more than a week in the Southern part of the country with both sides citing different reasons.
Serraj warned that the "sudden and unjustified" military escalation by the LNA around the Tamenhant air base controlled by forces under the GNA's command could lead the country into a "civil war" if "a firm and decisive stance" is not taken by the international community. He added that the GNA "will support all decisions to re-establish security and stability in Libya."
The HoR stressed that it is willing to do all that it could to prevent foreign intervention as it reminded the international community to respect the "will of the Libyan people and its democratic institutions." The parliament in Tobruk considers itself as the legitimate authority in Libya. It also alleged that the GNA's call for intervention is in favor of the armed militias and the smuggling gangs and the groups that destroyed the country.
Meanwhile, the National Human Rights Commission (NHRC) in Libya has claimed that Chadian "paramilitaries" have been involved in the clashes in the South on the sidelines of the Misratan Third Force and Benghazi Defense Brigades (BDB). It warned that foreign fighters posed a "dangerous development" to the crisis, peace and reconciliation efforts.
On the other hand, the LNA is believed to have Sudanese nationals in its ranks.