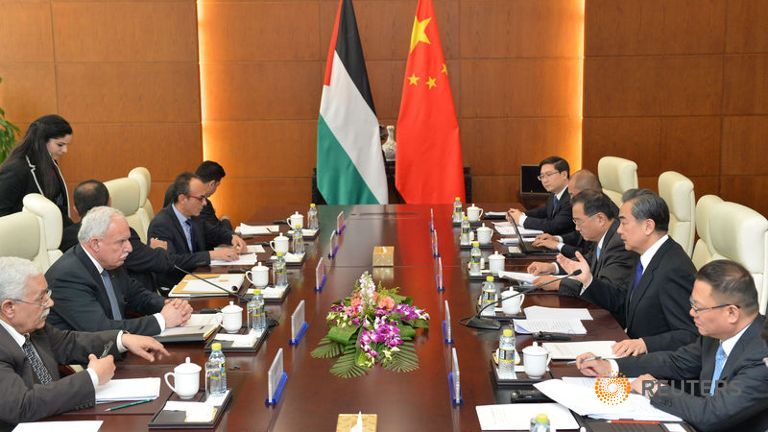 China has highlighted the need for an end to the "historical injustice" in the Israeli-Palestinian conflict with the hope that it would bring peace to the turbulent region. Speaking in Beijing at a joint press conference with the visiting Palestinian Authority's (PA) Foreign Minister Riyad al-Maliki, China's Foreign Minister Wang Yi said the injustice "can no longer continue" and "must be corrected."
Beijing has embarked on very limited actions in the past although Minister Wang Yi explained that they "played a positive and constructive role in the Middle East for years." It is unclear if it signals a change of policy in the region amid Wang Yi emphasizing that "there is no geopolitical consideration in its role, nor [sic] intention to make a balance with any other country." The region has been a ground field of strategic battles between world powers.
According to PA-owned Wafa news agency, the discussions between the two minsters included "political and diplomatic efforts to revive the stalled peace process between the Palestinians and the Israelis." Minister Maliki is hoping for a "balanced and constructive role" from Washington in reactivating the peace process.
Wang lamented that it has been seventy years now since the Jewish State was created through a UN resolution and "what we see is that our Palestinian brothers have yet to establish an independent state with full sovereignty." China wants a "just and comprehensive solution to the conflict" based on the pre-1967 borders.
Maliki hoped that Beijing will continue "to do more of this kind of approach, in order to see peace ultimately achieved in our region."
Israel has not reacted to the comments and its major ally, the U.S, is also silent about it for the moment.