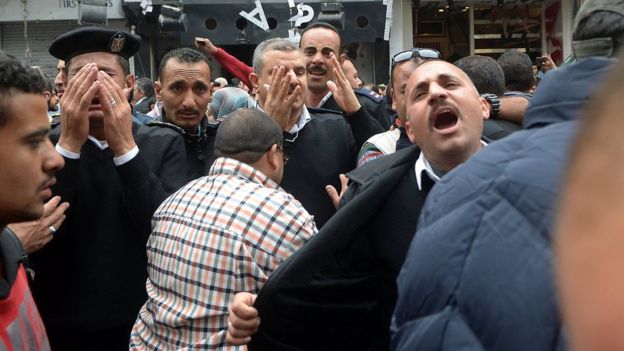 The terror organization Islamic State has claimed responsibility for two bomb blasts that struck Coptic churches in Egypt, killing at least 47 people as members of the country's largest religious minority celebrated Palm Sunday.
An explosion in the city of Tanta, about 90km north of Cairo killed 29 and injured 71 as they prayed at the Mar Girgis church according to the Egyptian health ministry. A second blast struck the Egyptian port city of Alexandria three hours later, killing 18 and wounding 35.
The bombings were the latest in a series of attacks on Egypt's Christian minority, who account for about 10 pc of the population and have been repeatedly targeted by Islamic extremists.
Following the twin-attacks, Egyptian president Abdel Fattah al-sisi announced a three-month state of emergency after meeting his national security chiefs.
In a defiant speech, the Egyptian president said the blasts "will not undermine the resolve and true will of the Egyptian people to counter the forces of evil, but will only harden their determination to move forward on their trajectory to achieve security, stability and comprehensive development".
He also warned the war against jihadists "will be long and painful" after he had ordered the army to protect "vital infrastructure". Isis is waging a deadly insurgency against Egyptian security forces in the Sinai.
The suspected suicide bombers in the Alexandria and the Nile Delta city of Tanta attacks, were identified and named by the Egyptian authorities, saying that both terrorists had travelled to Syria wherein it is believed they received training from jihadist groups before returning to Egypt.
The attacks were the deadliest on the minority in recent memory and came after repeated threats by Isis to step up violence against Christians in Egypt.