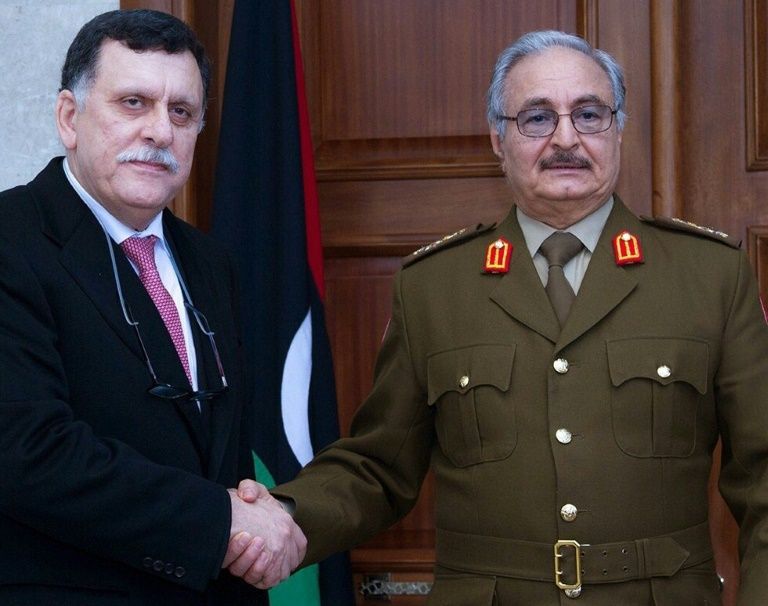 Head of the Libyan UN-backed Presidency Council (PC) and of the Government of National Accord (GNA) Faiez Serraj has announced to Italian Corriere della Sera he would very soon meet with Field Marshal Khalifa Haftar.
Haftar, who is leading the Libyan National Army affiliated to Beida government and to the Libyan internationally recognised parliament, the House of Representative (HoR), has been opposed to Serraj and to the Head of the UNSMIL, Martin Kobler.
Haftar has rejected the PC as proposed by the Libyan Political Agreement signed in Morocco, in December 2015.
The army veteran has recently taken centre stage after Moscow publicly called for his recognition as a key stakeholder in the Libyan crisis.
The future meeting to take place in Egypt is sponsored by Moscow, which has been trying to weigh into the Libya crisis.
"I confirm, it should take place soon, I think in less than a month, maybe in the coming days," Serraj told the Italian media.
According to Serraj, the meeting will only gather the two men, no mediator.
Earlier this month, Haftar had told the same Italian media that he was not available to meet Serraj for the time being.
"I, however, started to talk to Serraj two and a half years ago, but without any concrete results. Once we have defeated the extremists we can get back to talking about democracy and elections. But not now," he had said.
"Personally I have nothing against Serraj. The last time we spoke directly was on 16 January 2016. The problem is not him, but the people around him. If he really intends to fight to bring peace to our country, he should grab a rifle and join our ranks. He will always be welcome."
Serraj repeatedly indicated that he was eager to work with the military man but he suffered several setbacks. In September, Haftar seized Libya's oil crescent controlled by pro-serraj forces. The move caused a stir in Western capitals backing the PC.