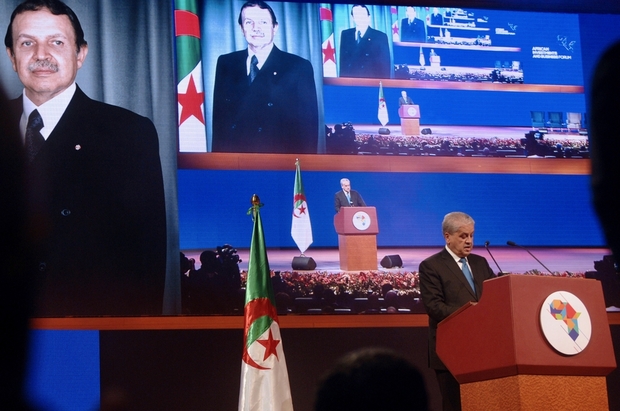 Transition from centrally planned economy to free market is not easy as the Algerian authorities must have realized this week when they saw their African Business forum crumbling before their eyes. They must have felt upset and terribly humiliated to see their big dreams shattered.
The forum was another major setback for the Algerian business diplomacy which was hoping to catch up with neighboring rival Morocco bracing to rejoin the African Union.
The Algerian African investment forum, which was expected to sell the image of a business-oriented country to African economic operators, has failed to achieve its minimum goals due to frictions between the Algerian Employers union and members of the Algerian government over protocol procedures.
During opening ceremony of the forum, Prime Minister Abdelmalek Sellal was the first speaker. He was followed by chairman of the Algerian employers Union Ali Haddad who took the floor ahead of Algerian foreign Ramtane Lamamra.
But Algerian ministers felt offended and took it personally as if the man committed a serious crime. So, all members of the government pulled out, leaving all guests wondering over what happened.
This minor incident showed to the visitors the deep internal frictions and rivalries raging for power in Algeria, sparking regional and international concerns over the stability of the North African country.
The ailing president Abdelaziz Bouteflika, 79, is still in wheelchair since having a stroke in 2013. He returned home recently after a week's stay at a private clinic in France and his "prognosis isn't good", according to western press reports.
The country is in a real predicament and resentment is growing against Algerian authorities which have managed so far burgeoning popular discontent with a stick-and-carrot policy.
Facing the most serious economic challenges in decades due to falling oil production and low international prices, Algeria is less and less able to substitute spending for inclusive politics and good governance.
The strategy that helped Algerian authorities secure peace in the 2000s – when it was still recovering from a conflict between the state and Islamist insurgents– is no longer viable. The unrest of the last few years demonstrates that southern citizens are no longer willing to put aside their demands for improved transparency, communication and respect from their government.
In the West, European capitals are worried over uncertain presidential succession. They fear the return of the Islamists who have been kept at bay by his iron hand.
Many analysts say tensions that have been buried since the civil war will re-emerge. And then Europe could be overwhelmed by another great wave of refugees from this country.
According to press reports, European governments are discreetly preparing themselves for another Algerian civil war and its consequences as the impact will stretch far beyond Algeria.