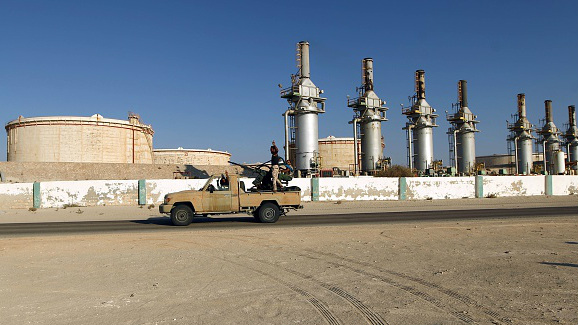 The Libyan National Army, based in the East, under Marshal Khalifa Haftar's command Wednesday announced they thwarted the country's oil crescent takeover attempt by Tripoli-backed forces three months after seizing the oil ports.
The Libyan National Army (LNA) as it is known said it retook control of Ben Jawad and Nufliya towns attacked by rival forces apparently supported by rival army of the unity government, established in capital Tripoli.
The rival forces were trying to retake two of the oil ports seized in September by Haftar's forces.
The LNA said it lost four of its men while eight other sustained injuries in the battle. The army also announced it seized the enemy's material and arrested some of its commanders.
The enemy, according to the LNA, is Benghazi Defence Brigades who fled Libya's second town to establish in Tripoli under the protection of the Government of National Accord (GNA) born in December and sponsored by United Nations.
The GNA's defense ministry denied any involvement in the attempt to retake the oil ports. The ministry reportedly mounted a military operation room to head an attempt to win back the oil crescent important to the GNA survival.
The Wednesday battles were condemned by the country's National Oil Corporation (NOC) which called the belligerents to spare the oil ports. NOC head, Mustafa Sanalla said loading of vessels would continue but added that he may declare force majeure in the event of further deterioration of the situation.