Egypt Floats Currency by 48% as Crisis Worsens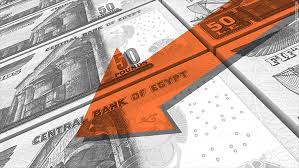 The Egyptian Central Bank dropped the Egyptian Pound's (EGP) value by 48% and raised interest rates by 300 basis points for "one night only" as part of its efforts to re-balance the currency market.
The decision has already yielded some results with the US dollar which was exchanged for 18.25 EGP plummeting to 13 EGP which is parallel to the newly pegged official rate. The stock market index jumped 8.3% with many stocks raising their 10% daily limits but the broader EGX 100 index gained only 3.6%.
The Central Bank said in a statement its "decisions come in the context of the government's economic reform program, with the aims of reducing the budget deficit and public debt through reforming the subsidy system, cutting back on government spending, slashing imports particularly random importing and increasing exports."
Last week, the International Monetary Fund spokesman Gerry Rice said Egypt is "very close" to having the $12 billion three-year loan approved by the organization's Executive Board within "the next few weeks."
IMF Chief Chrisitine Lagarde warned that Cairo had to address its currency crisis and undertake other necessary financial and economic reforms before they "will put money on the table to help them along the way."
Egypt's foreign reserves increased to $19.6 billion last month but that is less than 50% of what it was before the 2011 uprising that led to the end of the Mubarak regime.
As Egypt slowly implements the reforms requested by the IMF to obtain the multi billion loan program, Lagarde reaffirmed IMF's will to support the country "if they decide to move forward."
Short URL: https://me-confidential.com/?p=14161
Posted by
Jaber Ali
on Nov 3 2016. Filed under
Finance
,
Headlines
,
World News
. You can follow any responses to this entry through the
RSS 2.0
. Both comments and pings are currently closed.