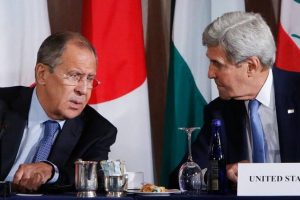 The cooperation between Moscow and Washington in the Syrian war has been suspended due to increasing attacks on civilian areas but the US said efforts to de-conflict counterterrorism would continue.
Announcing the decision, US Assistant Secretary and State Department spokesman, John Kirby, regretted that "Washington will withdraw personnel that had been dispatched in anticipation of the possible establishment of the Joint Implementation Center." "This is not a decision that was taken lightly," he said.
A high-ranking official at the Russian Foreign Ministry said the decision would be analyzed before a statement is released but noted that Washington's decision "evokes disappointment." While awaiting the official reaction, the head of the foreign affairs committee of the upper chamber of parliament, Konstantin Kosachev linked the decision to the "subjective reasons linked to the (US) electoral campaign" with elections scheduled in November. "The hawks evidently did not support the political process that Lavrov and Kerry agreed on in principle and do not plan on supporting it. And so the process is doomed as things stand," he stated.
Russia intervened in the Syrian conflict a year ago and has contributed to the progress of pro-Assad forces. Recently, it has come under strong criticism from European countries and the US for the targeting of civilians and hospitals by pro-Assad warplanes.
Washington thinks that Russia is "either unwilling or unable to ensure Syrian regime adherence to the arrangements" of the ceasefire that they agreed upon last month.
Spokesman Josh Earnest of the White House said "everybody's patience with Russia has run out," it is "clear" that "there is nothing more for the US and Russia to talk about with regards to trying to reach an agreement to end the violence inside of Syria and that's tragic."
Russia has usually defended its actions by stating that it is fighting against terrorism but some of the groups considered as terrorists by Damascus and Moscow are allies of Western countries in the fight against the Islamic State.
Meanwhile, there are reports that Russia has deployed its S-300 anti-missile system to Syria but there has been no official confirmation.