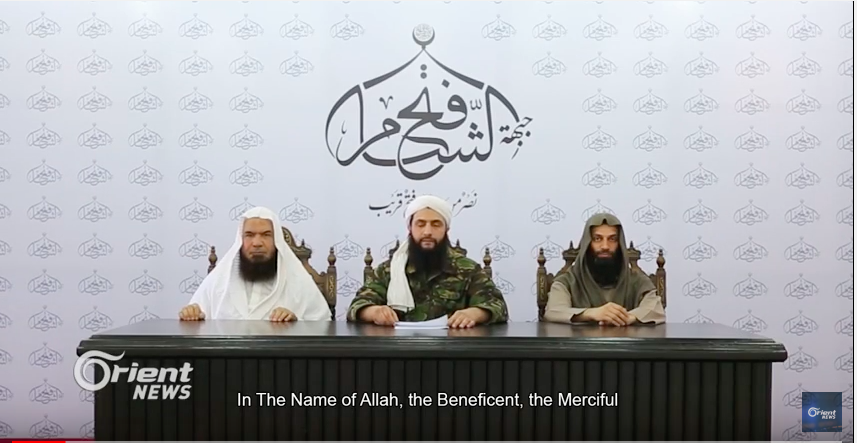 Al Nusra Front is no longer affiliated to the al-Qaeda network or to "any external entity" according to a video message by Abu Mohammad al-Golani, leader of the group, on Thursday. Henceforth, the Syrian based group that emerged during the early days of war against Assad's regime baptized itself as Jabhat Fath al-Sham (The front for the liberation of Sham) and declared "the complete cancellation of all operations" under its former name. It was Golani's first appearance on a video. Among the reasons that contributed to the split is to end US and Russian excuse to "bombard and displace Muslims… under the pretense of targeting Nusra Front which is associated with al Qaeda."
The announcement was received with caution by the High Negotiations Committee. Spokeswoman Farah al-Atassi said although they "look at it with relief", the declaration is "very premature" to forecast the consequences of the split. However, she said it will help to reduce the number of Russian airstrikes on the Free Syrian Army and civilian neighborhoods under allegations that they are targeting al-Nusra front. Jabhat Fath al-Sham had the blessings of the al-Qaeda leaders and the two groups continue to share ideological beliefs.
The new group will be targeted by the US after State Department spokesman John Kirby said "there's no change to our views about this particular group" because they judge an organization "much more by its actions, its ideology, its goals" rather than names. "They are still considered a foreign terrorist organization."
Al-Golani's forces have been influential in fighting against pro-Assad forces and control large areas in northwestern Syria. The split is also aimed at facilitating the orientation of their efforts towards the regime in Damascus. Assad considers all rebel groups fighting against his government as terrorists and with the support of Iran, Hezbollah and Russia, Jabhat Fath al-Sham is more likely to be considered as a change of name but the group's philosophy, tactics and objectives continue to be unaffected.